COVID-19
Free School Meals

As of today, Tuesday 12th January 2021, there is no system in place from the Government to issue vouchers for those children who are eligible. We will be contacting all families of children who are eligible to see if they want a food pack delivered. Please stop phoning the school office to ask about vouchers - we will not let any child go hungry at St Cuthbert's and you have the option of a food pack.
Laptops

Thank you to the parents who have contacted us about the school providing laptops. I have written a letter attached below on the criteria for having a laptop on loan from the school. Please do read. The laptops were delivered on Wednesday 13th January 2021 and parents were contacted directly based on the criteria in the letter below. Our allocation was 26 laptops. If you haven't heard from us but need a device loaned for your child to use please do contact us.

Laptop letter

Support for parents in Covid-19.
Help and Support.
BCP Letter to Parents Carers Jan 21.
Yardley Mental Health support Timetable January 2021

Support for SEND parents.

As of Monday 4th January 2021, the government announced a national lockdown and the closure of all schools for most pupils.

I know that this in not the start to 2021 that we all hoped for but please be assured that St Cuthbert's remains open to support your through this lockdown.

Nursery will remain open, in line with the government's announcement and children of key workers can come into school from Tuesday 5th January 2021.

We will be contacting families and offering children places in school for a variety of reasons but if you need help and support and feel your child needs a place in school please do contact us to discuss this.

Online learning will begin from Wednesday 6th January; we will be using the BGFL platform and instructions for logging on and using the platform can be found below. We will be using Microsoft Teams to deliver lessons and again instructions for how to use this can be found below. We are aware of families that do not have devices at home and will be contacting you in the next few days.

This lockdown is different to the one in March, staff will be in school teaching their own year groups, for children who are attending and children who are online. We know the challenges you face but it is important that children from Year 1 - Year 6 actively participate in learning daily.

Your children need to continue with their education - it is vital, and we are working at St Cuthbert's to support that, but you have to support your children in accessing the work. The expectations are different during this lockdown and therefore we will be contacting parents of children who do not complete any or little remote learning to see what barriers are stopping you and to see if we can support you.

We will be contacting you all over the next couple of days - please remember that you are not alone and that we are open to support you through this lockdown.

I will leave you with a quote from Julian of Norwich - who lived a long time ago but whose words seem so relevant today:
"All will be well, and all will be well and all manner of things will be well."
Please click the link below to access a child-friendly version of this information. Please read this with your child so that they also understand the new routines that will happen in September.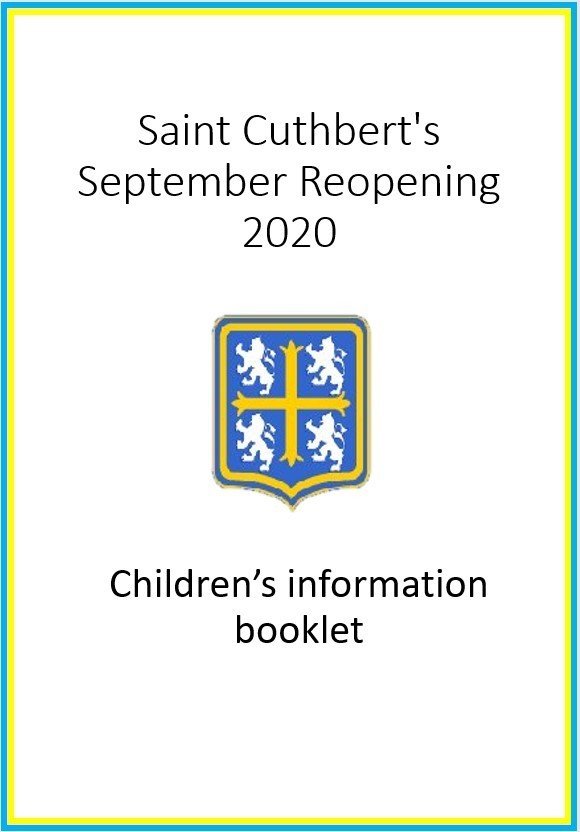 Flowchart explaining the process when a child or member of staff shows symptoms of the coronavirus