Reading
Learning to read is one of the most important things your child will learn at our school. Everything else depends on it, so we put as much energy as we possibly can into making sure that every single child learns to read as quickly as possible. We want our pupils to love reading – and to want to read for themselves. This is why we work hard to make sure children develop a love of books as well as simply learning to read.

We start by exposing children to age-related texts right from Nursery, in order to give children the opportunity to learn new vocabulary and to begin their love of reading. Then in EYFS/KS1 we start with Phonics. St Cuthbert's follows the Letters and Sounds scheme of work, which enables us the flexibility to cater the learning for our pupils. Phonics lessons take place at least three times a week.

Teachers regularly read to the children too, so the children get to know and love all sorts of stories, poetry and information books. This helps to extend children's vocabulary and comprehension, as well as supporting their writing. To support this, we actively encourage children to take home books from the class collection or the library that may be of a higher level than they can read on their own. We want children to experience books about all sorts of topics and have the opportunity to share these with parents and families at home.

In guided reading sessions your child will work with children who are at the same reading level. This is so that the teaching can be focused on their needs. Some older children will continue to access phonics groups if they need further consolidation and development of reading skills. We check children's reading skills regularly so we that we can ensure they are in the right group. Children will move to a different group if they are making faster progress or may have one-to-one support if we think they need some extra help.

In the Summer Term, the government asks us to do a phonics check of all the Year 1 children. We will let you know how well your child has done.

In the Summer Term, Year 2 and Year 6 have statutory tests where their ability to answer questions about a text are measured. To prepare children for this, we ensure our teaching of reading includes lots of opportunities to discuss characters, settings and events. We also ensure children have a wide exposure to vocabulary throughout our curriculum so that children are able to access the text in the test, as well as the questions to the best of their ability.

We believe that reading should not only take place in English lessons but in all subjects, we therefore intend to provide our children with the opportunity to access good quality texts in all subject areas. We also invite our children to take books from the school library as well as each class being equipped with age-related texts.


PHONICS
St Cuthbert's follows the Letters and Sounds scheme of work. All children from Nursery to Year 2 have at least 3 phonics sessions a week in which children are taught how to accurately decode words. In EYFS and KS1 children are given regular phonics homework and encouraged to learn their sounds independently. By KS2 those children who have not completed phase 5 of the Letters and Sounds programme are given additional lessons by a member of staff up to three times a week. All other children in KS2 follow the National Curriculum objectives for spelling. All classes have differentiated spelling groups, all children have weekly spellings that they have to learn and are tested on once a week. In addition children may receive additional homework based on the spelling patterns they are learning for that week.
SCHOOL LIBRARY: We at St Cuthbert's are very proud of our Library. It has a wide range of books as well as an area to sit and do work quietly. We also have proud school librarians who are happy to help and will even read a story or Two.
We really enjoy a visit to our school Library too. Here you can see the Year 1 class visiting our librarians. Classes take it in turn to this weekly.
World Book day celebrations 2020!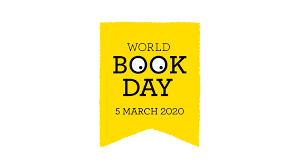 We had an amazing World book day, celebrating our love of reading. We listened to stories, we shared books with different classes, we learned about our favourite characters and authors and even managed to do lots of writing.
We have held this year a Bedtime story day. The children wore pajamas and celebrated their favourite bedtime book. We also held a design a new front cover for your book competition. You can see our winners above.
Not only are we proud to have a school Library, but we also take great pride in our reading areas in class. Here you can see Reception's winter themed reading area.