Pope Francis wrote a letter to Catholics worldwide called 'Laudato Si'. In it he gave use a very important message and that message was for us all to be more aware of our environment. Not only that, but, to also make steps to reduce the amount of waste and pollution we create by making small changes to our daily lives.

We are committed to making our environment greener. One way we have done this is by setting up an Eco Cadet group where two children from each year group will work with Mrs McKenna to find ways to make us more aware of our impact on the environment and ways we can reduce our negative impact.

Last year, (2018-2019), we made our first steps towards a bronze Eco award and thanks to the hard work and dedication of Mrs McKenna and her Eco Cadets we achieved this! You will now see on the bottom of our newsletter the Bronze award badge.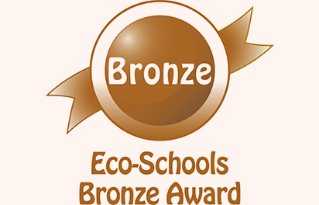 Eco Cadets 2021-2022