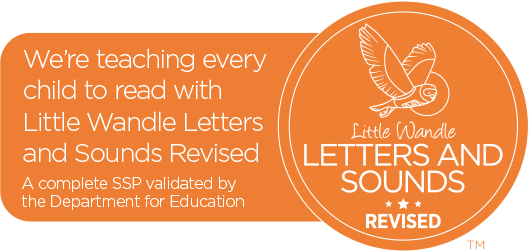 Phonics and Early Reading
Intent

Phonics is one of the cornerstones of reading. By learning sounds children are increasingly given access to independently reading a wide variety of texts.

At Saint Cuthbert's Primary School, we believe all children can become fluent readers and writers. This is why we follow the Little Wandle Letters and Sound Programme. This is a systematic, synthetic programme which aims to deliver high quality phonic lessons in order for our children to all become fluent readers. The teaching of phonics starts in Nursery and continues as we follow the progression charts created by Little Wandle. This ensures that children develop a growing knowledge of the alphabetic code.

As well as delivering high quality phonic lessons, we have a scheme of Phonic books which are directly linked to our Phonic scheme. This enables children to practice their phonetic knowledge when reading in school and at home.

Comprehension of texts is also at the forefront of our intent in Early Reading. Not only do we aim to develop fluent readers, we also aim to ensure through direct comprehension teaching, children are able to understand the texts they are reading.
Implement

Daily Phonic Lessons
Reception and Year 1 are taught phonics daily for 30 minutes each day. At the start of Reception, this might start with 10 minutes per day gradually building up to 30 minutes.

Each Friday, children are taught a review the week session. This is a vital lesson where children are able to review the learning from the week. We know that retrieval of information taught is key to new information being stored in the long term memory. This is why the review the week sessions are so important. By reviewing past learning, children are more likely to remember it.

The teaching of sounds is done following a progression chart by Little Wandle Letters and Sounds. In Reception, children are taught Phase 2 and 3 sounds and taught Phase 4 blends with fluency and accuracy. In Year 1, children begin by reviewing the content from Reception and then are taught Phase 5 sounds.

Children are taught both reading and spelling within phonic lessons. To develop fluency through blending for reading and segmenting for spelling.

Reception Progression Chart

Year 1 Progression Chart


Typical Phonic Lesson

Revisit and Review - Children review sounds already taught and practice reading words that contain sounds already taught with fluency and automaticity.

Teach and Practise - Children are introduced to the new sound or blend for that lesson. Children then practice reading these words, using sound buttons to begin with.

Practise and Apply - Children then read a sentence containing the sounds taught in that lesson. Children will then practise spelling words with that sound.

Daily Keep up Sessions

Any child who needs additional practice has daily Keep-up support, taught by a fully trained adult. Keep-up lessons match the structure of class teaching, and use the same procedures, resources and mantras, but in smaller steps with more repetition, so that every child secures their learning.

Any child from Year 2 onwards who have not passed the Phonics Screening Check or have been identified as needing extra fluency support will continue to receive daily phonics support.

Due to the pandemic, Year 2 receive whole class daily phonic lessons this year. This is to support their fluency in reading. This will be reviewed termly.

Reading Sessions

Reception, Year 1 and Year 2 have three reading sessions a week. The books read are matched to the groups knowledge of sounds and their ability to blend. Each session has a specific focus:

Session 1: Fluency - The first session focuses on the children's ability to read words. We encourage children to blend in their head and read the word. Before this session, children are exposed to words from the book that can be decoded, tricky words found in the book and topic words. Topic words are words that are read and discussed so that children understand their meaning.

Session 2: Prosody - The second session focuses on prosody. This is where children are taught to read the book with expression. By doing this children get a better understanding of meaning of the sentence and equips them for comprehension is session 3.

Session 3: Comprehension - The third session focuses on comprehension. This is where the trained adult will focus on one strand of comprehension for the book.

Home Reading.
Children will bring home the book they are reading in class. The purpose of this is to give them extra time to practice becoming more fluent with the text they are reading that week. Children will have already read their book in school before it being sent home. Children should not find it difficult to read their book at home. Please share the success of your child's reading as you experience their fluency grow.

As well as a reading book, children will also be given a share book. This is a real story book that is meant to be shared with an adult. This is not a book for the children to read but for you to read to your child to promote a love of reading in the family home.

For Parents

If you would like further information about how to say the sounds your child is learning please follow the link below to access the parent page for Little Wandle Letters and Sounds

https://www.littlewandlelettersandsounds.org.uk/resources/for-parents/


Impact

To assess the impact of the phonics provision in school we:

Formative Assessment within the Lesson - Highly trained staff will assess children's understanding within the lesson and provide further opportunities for children to practice that same day.

Summative Assessments - Complete half-termly assessments in Reception and Year 1: This information is then used to provide children with daily catch up sessions if needed.

Phonics Screening Check -
In the Summer Term of Year 1, all children will be assessed against the Phonics Screening Check. This assessment is statutory and is designed to identify children's phonemic awareness and blending fluency. Any children who do not pass the Screening Check in Year 1 will be reassessed in Year 2.

KS2 Pupil Progress Meetings - Any children who are identified as needing fluency intervention or who have not passed the Phonics Screening Check, will receive daily intervention and this is assessed in termly pupil progress meetings.