Academic Year 2019-2020
Academic Year 2018-2019
Saturday 4th May 2019 - First Holy Communion
We would like to congratulate the children in Year 3 who made their First Holy Communion today. We welcome them in communion with the Church. We continue to pray that they continue to further their relationship with Christ through the Sacrament of the Eucharist. As Sister Maureen says, Your first Holy Communion is not your Last.

Friday 22nd March 2019 - Lent Prayer Service
Mr Gallagher and Mrs Hodson led a lovely prayer service to start our Lenten Journey. We reflected on what it meant to be a disciple.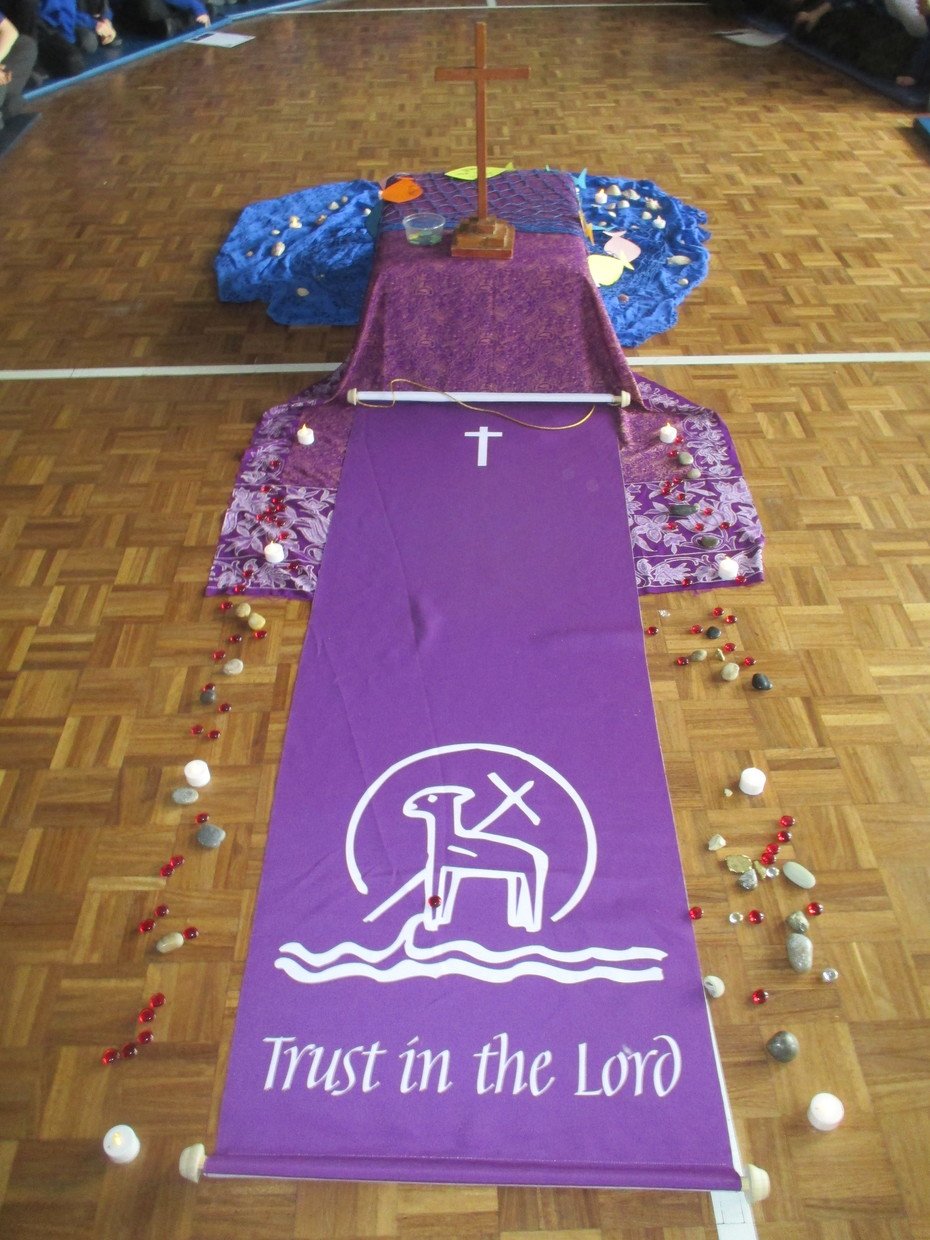 Friday 14th February 2019- Prayer group using prayer labyrinth.
Mrs Parkes and Mrs Hargreaves demonstrated to the school prayer group and alternative way to pray. The children used the labyrinth set up in our prayer garden and will show other children how to use it.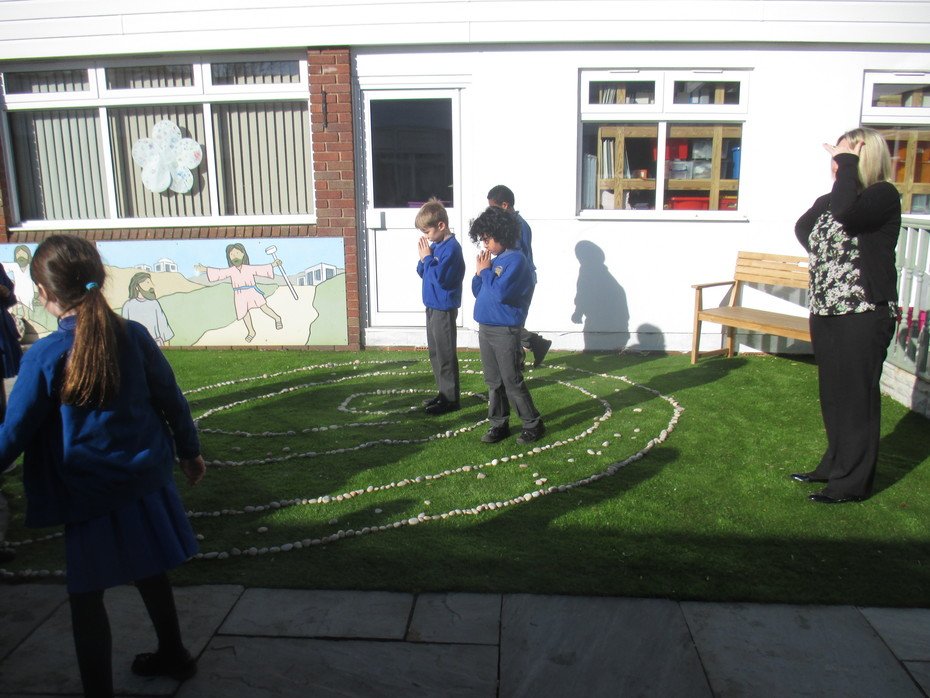 Friday 9th February 2019- Robby Labita's remembrance mass.
Mr Gallagher and Year 5, led us in prayer during a poignant mass, for our dear departed friend Robby.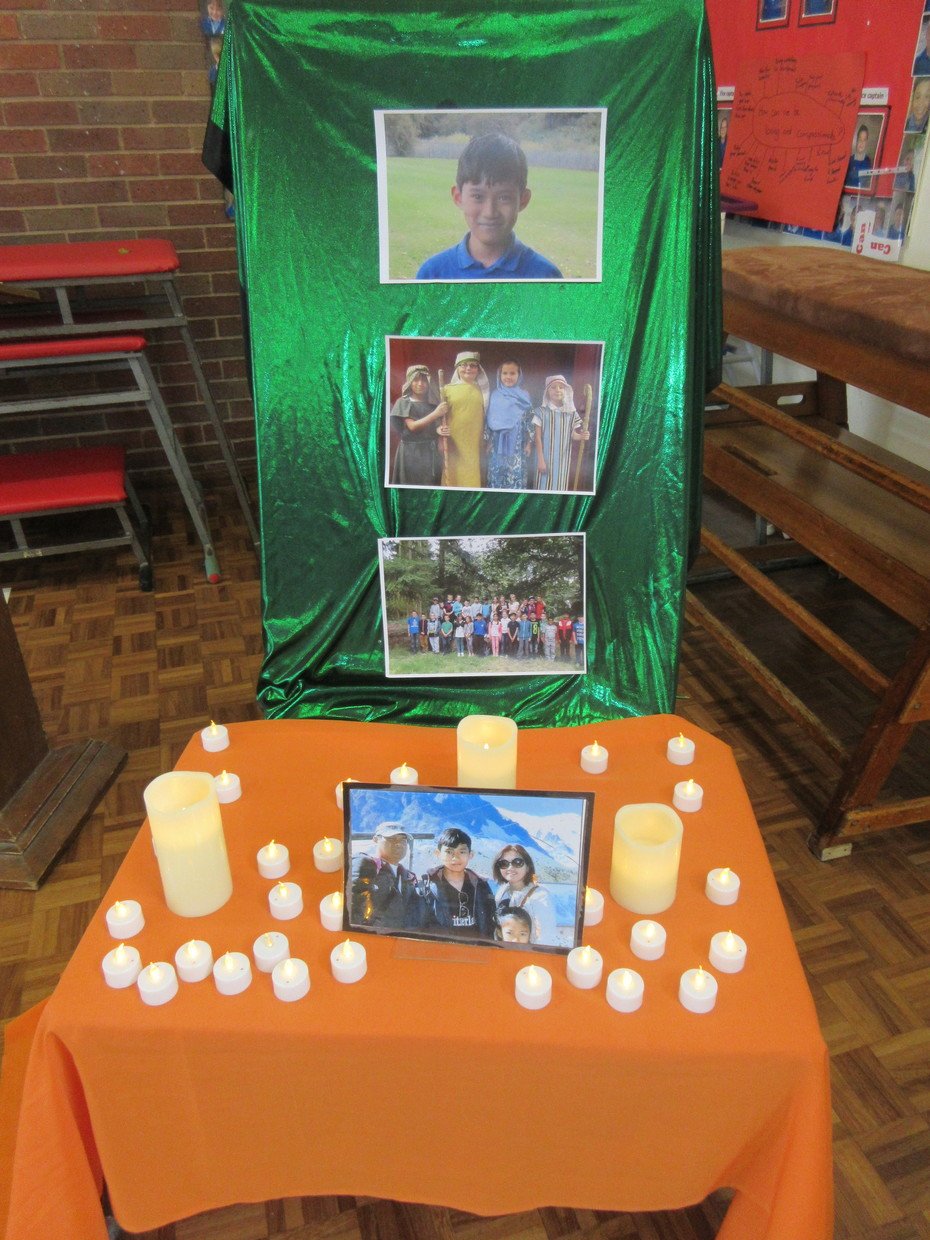 Thursday 7th February 2019- Laudato Si Collective worship.
Mrs Hobbs led us in prayer as a school, in praying for our planet. We continued to discuss how we can look after this gift that God has given us.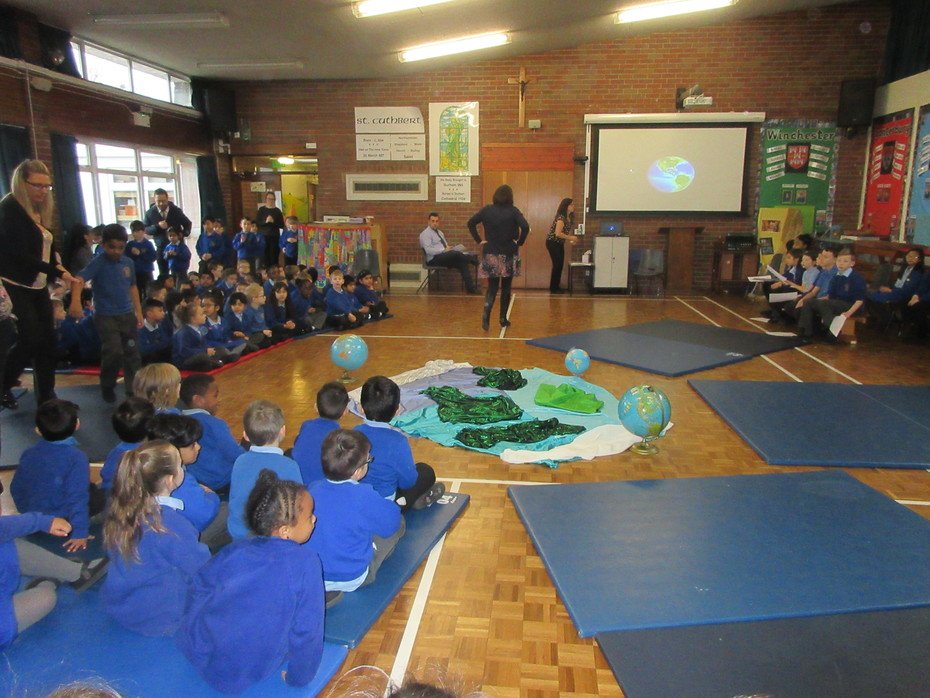 Wednesday 6th February 2019- Year 3 inspire workshop.
In this inspire workshop, Year 3 created a Mass Kit with their parents. As Year 3 are in KS2 and are also taking the sacrament of Holy Communion this year, we felt it was important that they begin to be able to plan and lead their own collective worship.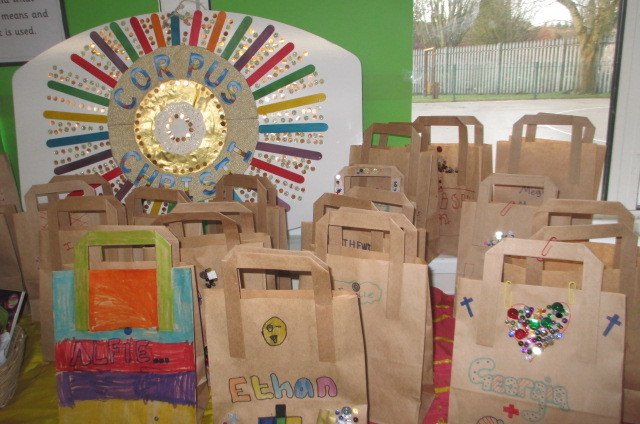 Thursday 24th January 2019- Laudato Si Assembly. Mrs McKenna led the school Eco Cadets in an assembly about protecting the world in which God has created for us. They talked about the animals God created and how they are now endangered.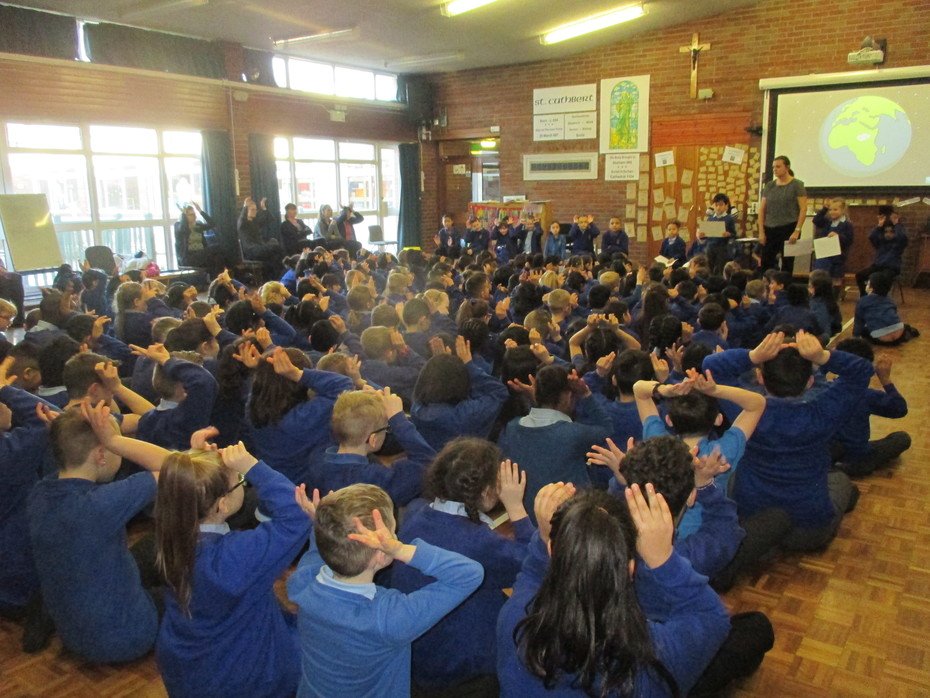 Thursday 6th December 2018 - Gift Night
We would like to thank all parents who supported us for our annual gift night. The money raised went to the Saint Vincent De Paul Society to help the homeless. It was a great event which truly encompasses our school motto "Love one another, as I have loved you."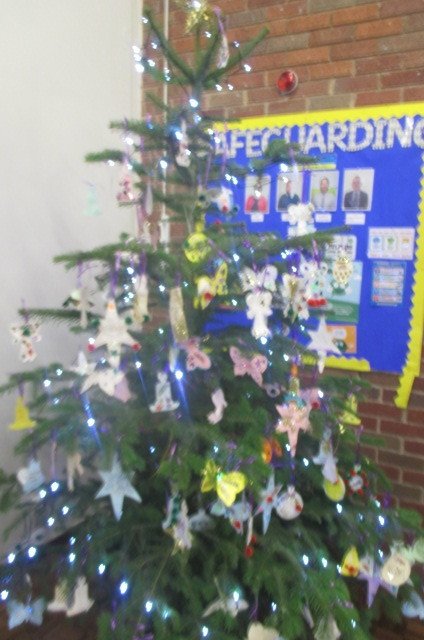 Thursday 6th December 2018 - Advent Prayer Service
'When is He coming, when oh when is He coming, the Redeemer' Mrs Hobbs gathered the whole school together to reflect on the meaning of Advent and what we can do to be ready for Jesus.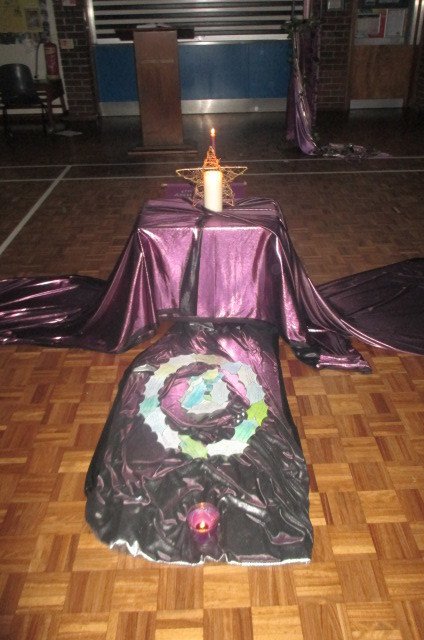 Thursday 8th November 2018 - Remembrance Prayer Service
Mrs Hobbs led a lovely prayer service today. We reflected on the word 'Remembrance' especially thinking of the brave men and women who sacrificed their lives for their country. Eternal rest grant unto them O Lord.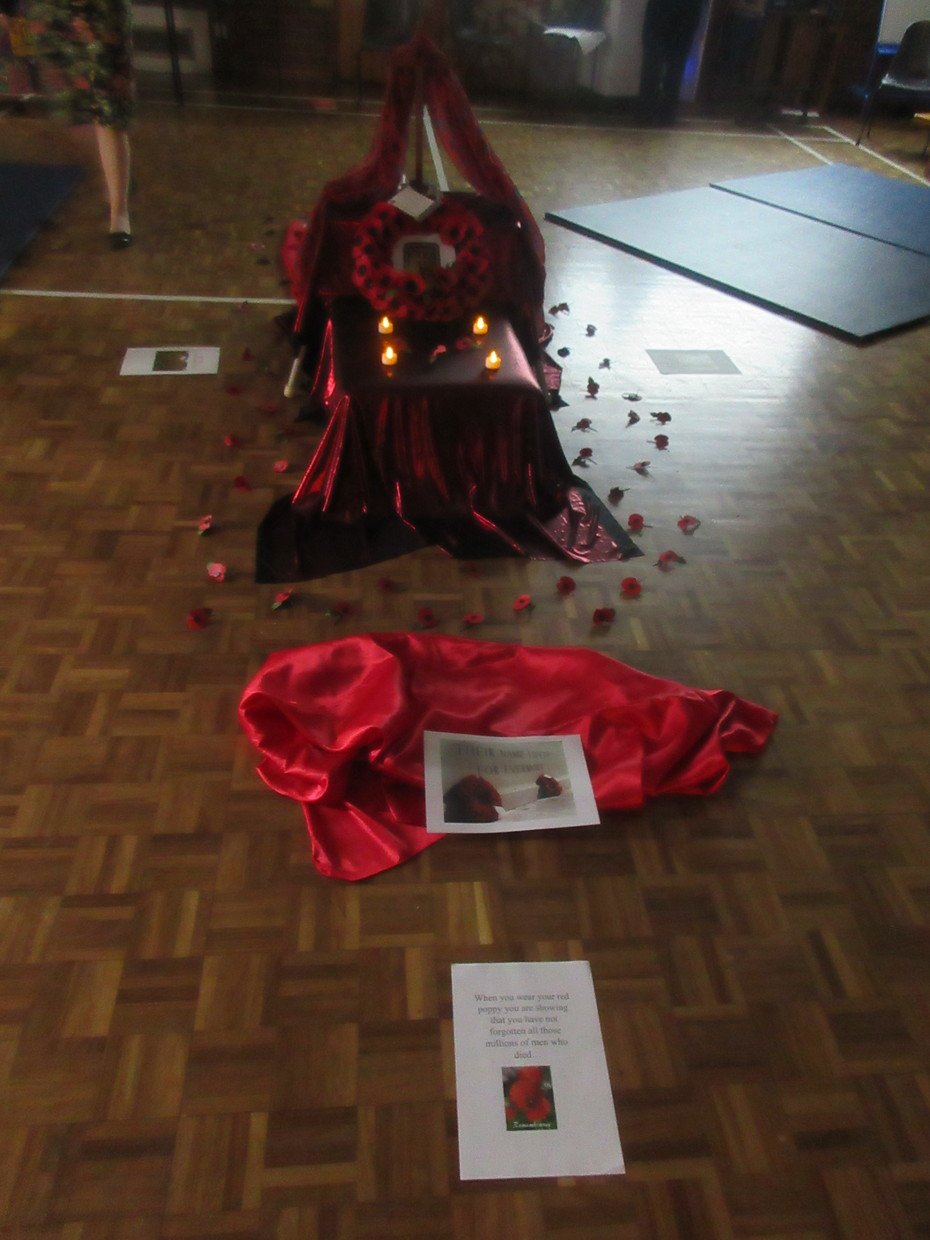 Thursday 11th October 2018 - Rosary Prayer Service
Mrs Hodson and Mr Gallagher led a reflective prayer service all about Mary and how important she is to us. Two Year 6 children eloquently read two readings 'Jesus lost in the temple' and ' The Wedding Feast at Cana'. Followed by our Liturgy Leaders leading us in prayer. The children of Year 5 and Reception responded by creating a lovely rosary out of stones and placed them on our prayer focus as the rest of the school sang 'As I kneel before You'.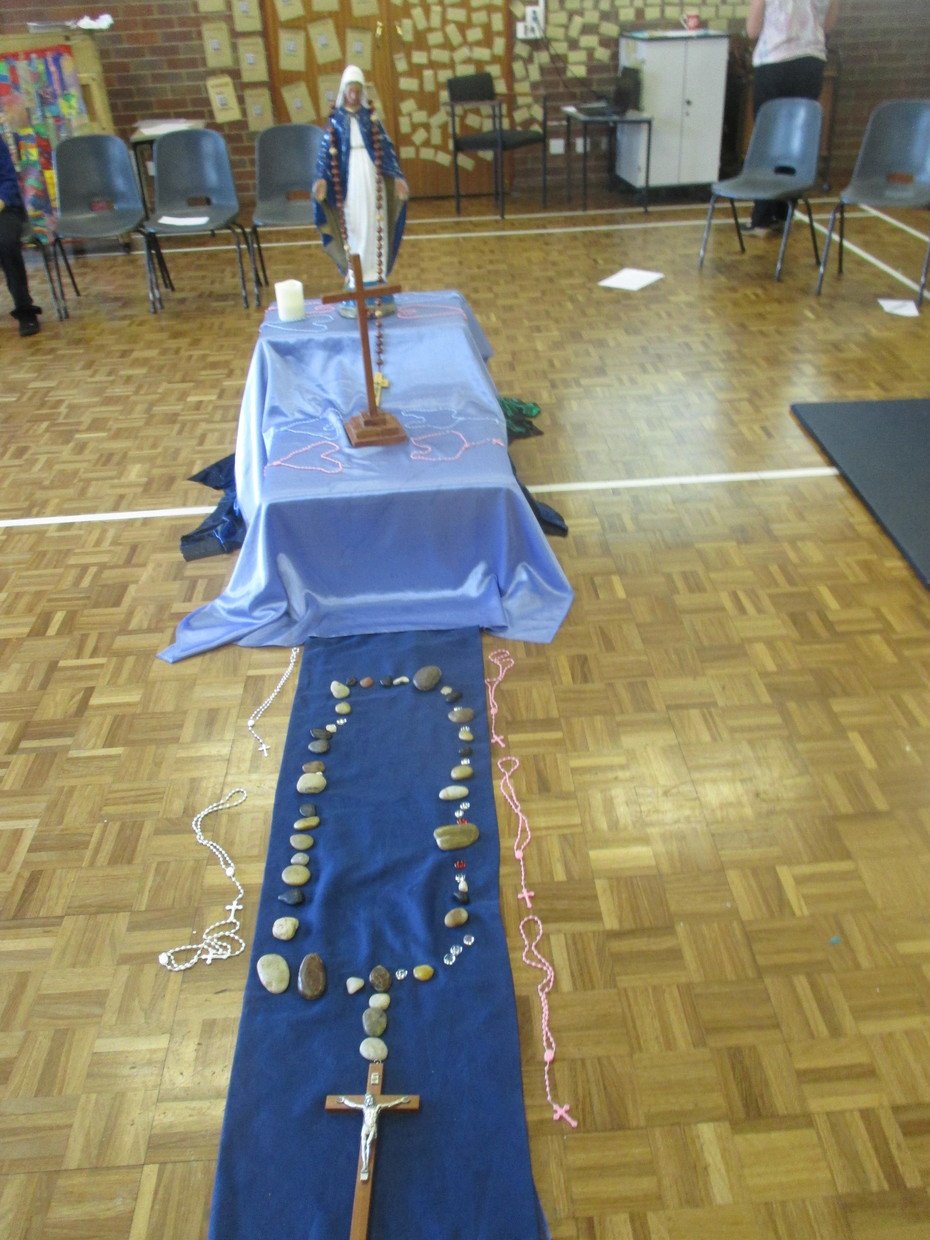 Wednesday 10th October 2018 - Ordinary Time assembly
Mrs Hodson presented a wonderful assembly today all about Ordinary time in the Church's year. She focused on what it means to be in Ordinary time and how we have a mission to be extraordinary in Ordinary time.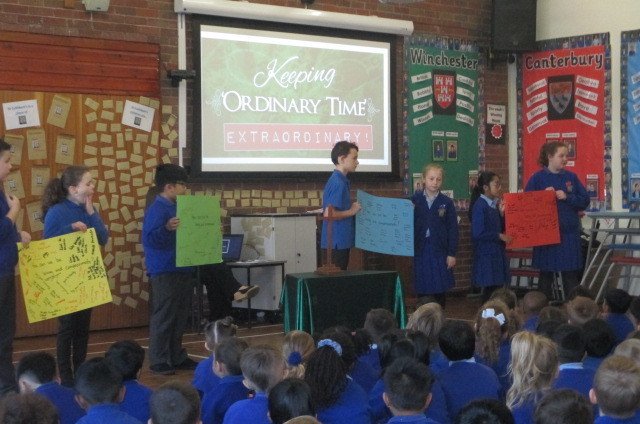 Wednesday 3rd October 2018- Liturgy Leaders
Mrs Hobbs announced in assembly today our new Liturgy Leaders for this academic year. Well done to Matthew and Nuala (Y3), Logan and Lois (Y4), Gabriella and Julian (Y5) and Thomas and Sienna (Y6).

Tuesday 2nd October 2018 - Year 5 Inspire
Year 5 and their parents came together on Tuesday morning to learn about our topic the 'Anglo-Saxons'. Together, the children and their parents made Cuthbert Crosses. This activity also gave us the opportunity to learn about our school's patron Saint, Saint. Cuthbert. Thank you to all the parents who came along to support their children's learning. The parents also had the opportunity to experience our SMSVC lessons. The children, with support of their parents, thought of 5 acts of kindness they can do throughout the week in celebration of St. Therese of Liseux.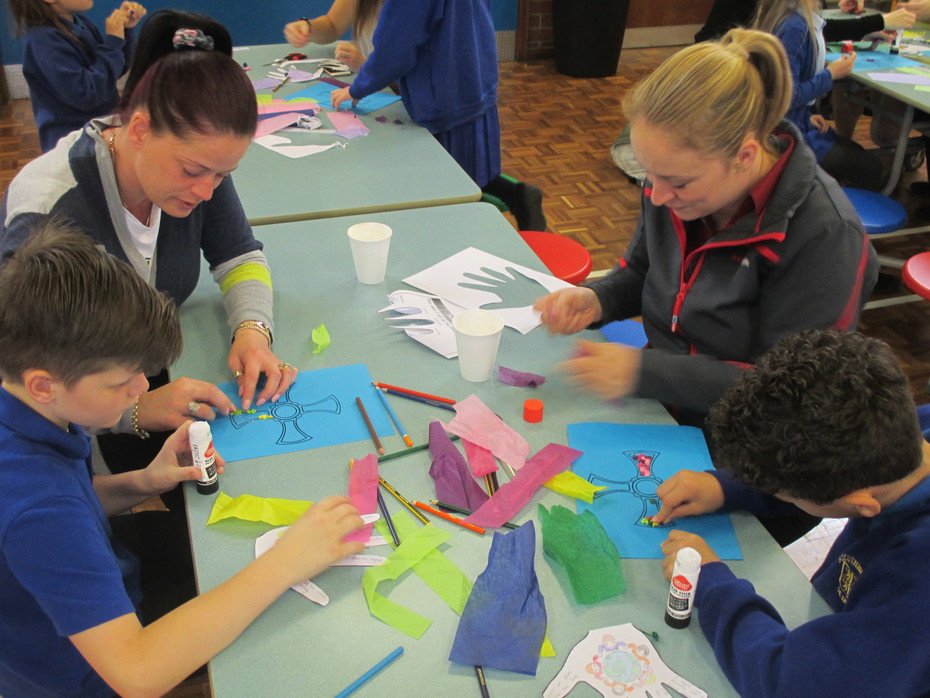 Tuesday 2nd October 2018 - Little Way Week


Thursday 27th September 2018 - Macmillan Coffee Morning
On Friday, we had our Macmillan coffee morning. We were overwhelmed by the support of our parents and our parish who came for a warm drink and a nice slice of cake. We would like to thank our staff for their generous donations to help raise money for such a worthy cause.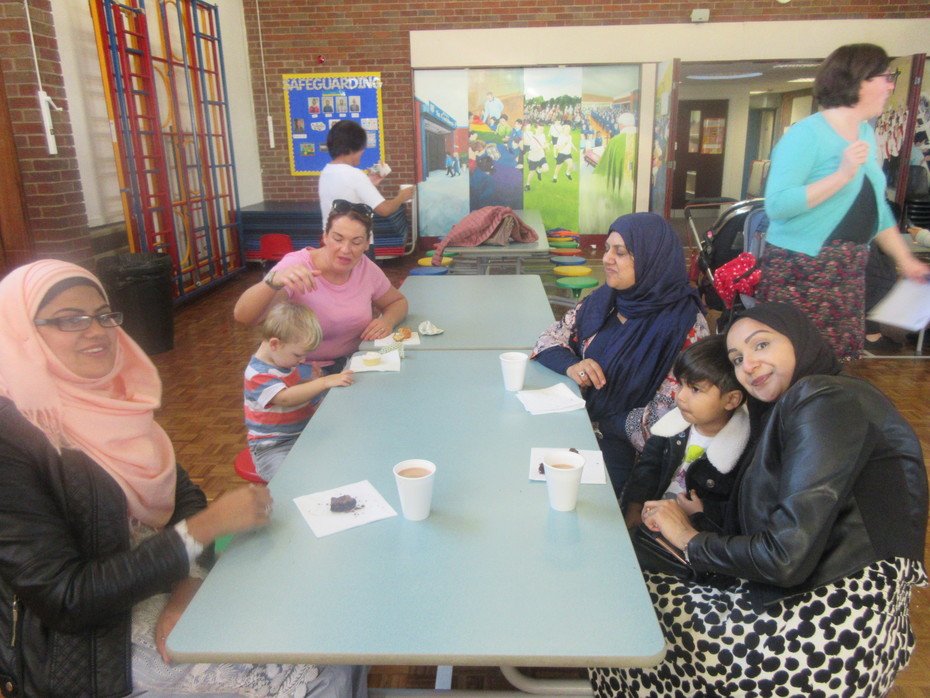 Wednesday 26th September 2018 - Year of the Priest Assembly
Mr Gallagher led an informative assembly on the Year of the Priest. As a school, we thought about what gifts we could give to Father Andrew, Father Vipin and Father Biju this year. We also learnt about different types of priests. We learnt about: Father Andrew, Archbishop Bernard, Cardinal Vincent Nichols and Pope Francis and their role in the Church.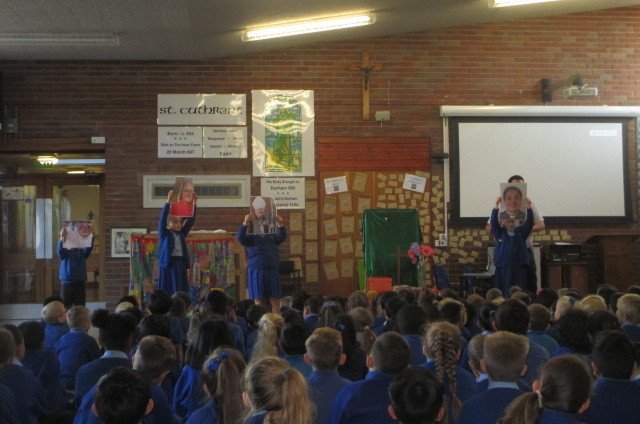 Tuesday 11th September 2018 - Adoremus.
Today was a very special day! The Archbishop invited all Catholic schools in Birmingham to join him in celebrating the Eucharist through the Exposition. The Archbishop live streamed to all the schools and spoke to them about this lovely event. The children really enjoyed their quiet time with Jesus and have said how peaceful they felt. Each class made a piece of artwork for this special event. I am sure you will agree how lovely they look.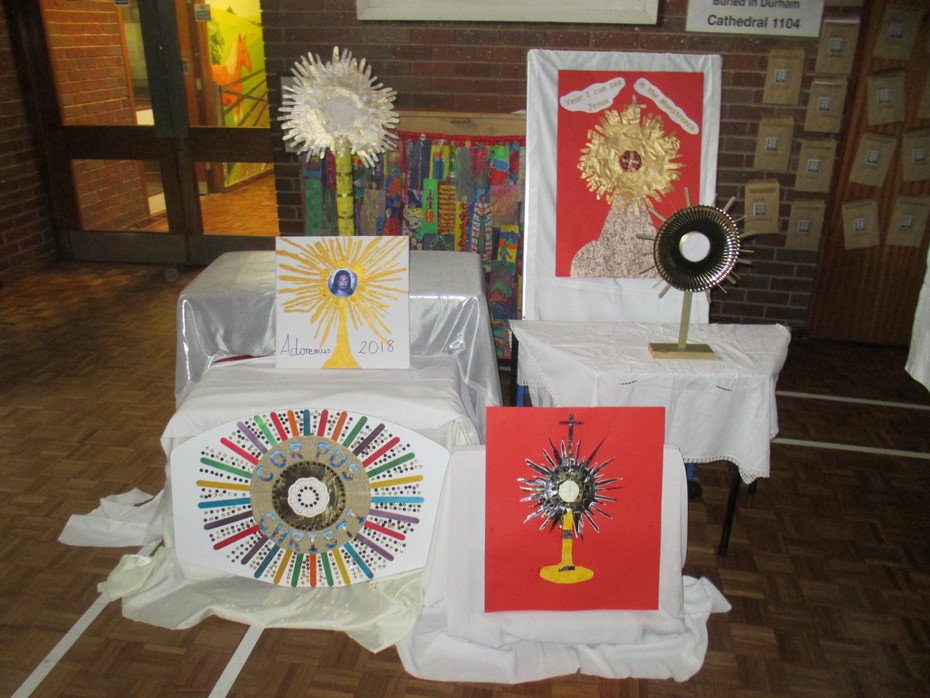 Friday 7th September - Kerala Flood Disaster
Mrs Hobbs presented a cheque to Father Vipin today to add to the Sunday collection at Corpus Christi Church to support CAFOD's aid in Kerala, India. It is times like this, we remember that we are One body in Christ and by following this belief, we have a duty to help those in need. We pray for those who are affected by the recent disaster.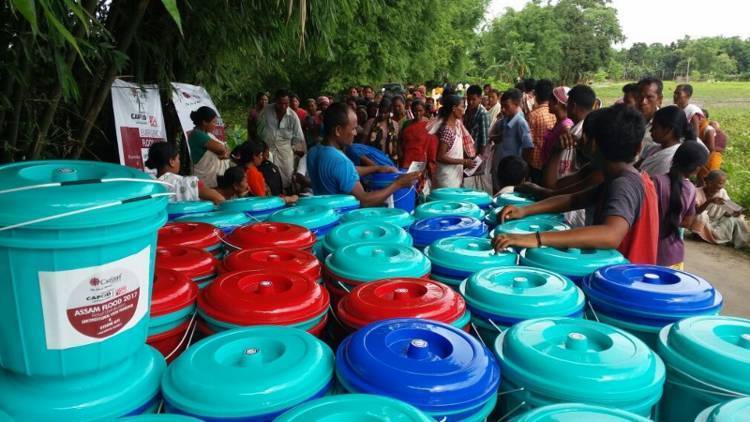 Wednesday 5th September 2018 - Welcome back assembly.

Mrs Hobbs presented a lovely welcome back assembly today. She asked the children to think about what Saint Cuthbert's school is a place of. The children responded with great answers. One child said that it is a place of worship and another a place of friendship. Mrs Hobbs then gave each child a mission to say what a Saint Cuthbert child is like. This was presented the following Monday.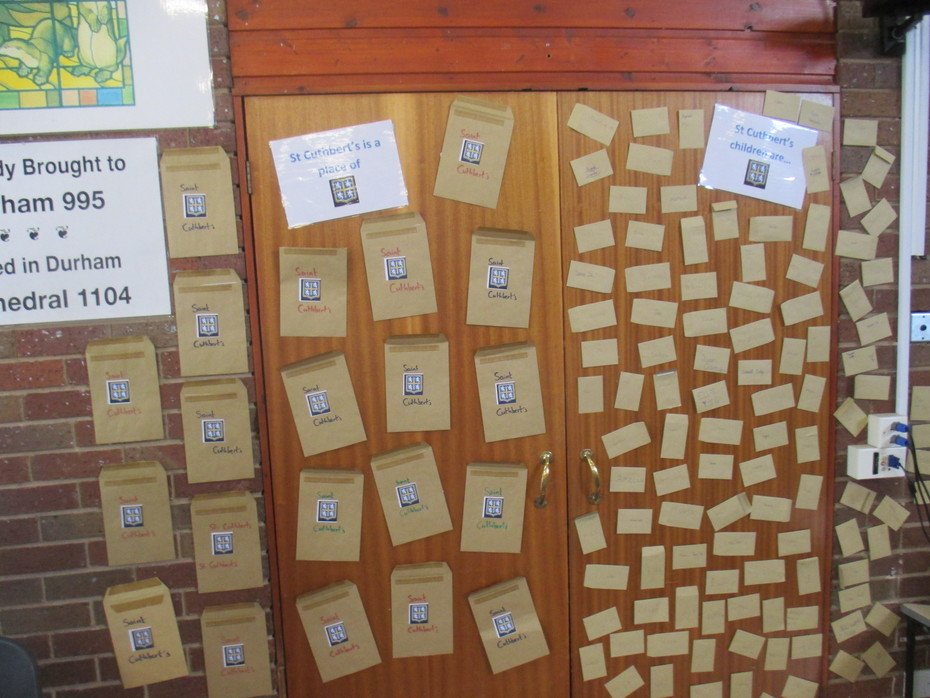 Academic Year 2017-2018
19th July 2018 - Children awarded for showing the virtue of being attentive and discerning.
Today we had our celebration assembly. We have started a new award relating to our SMSVC lessons. These children were recommended by their teachers for being attentive and discerning. Well done to Ethan (Reception), Tommy (Y1), Nuala (Y2), Jada (Y3), Julian (Y4), Ruby (Y5) and Hannah (Y6).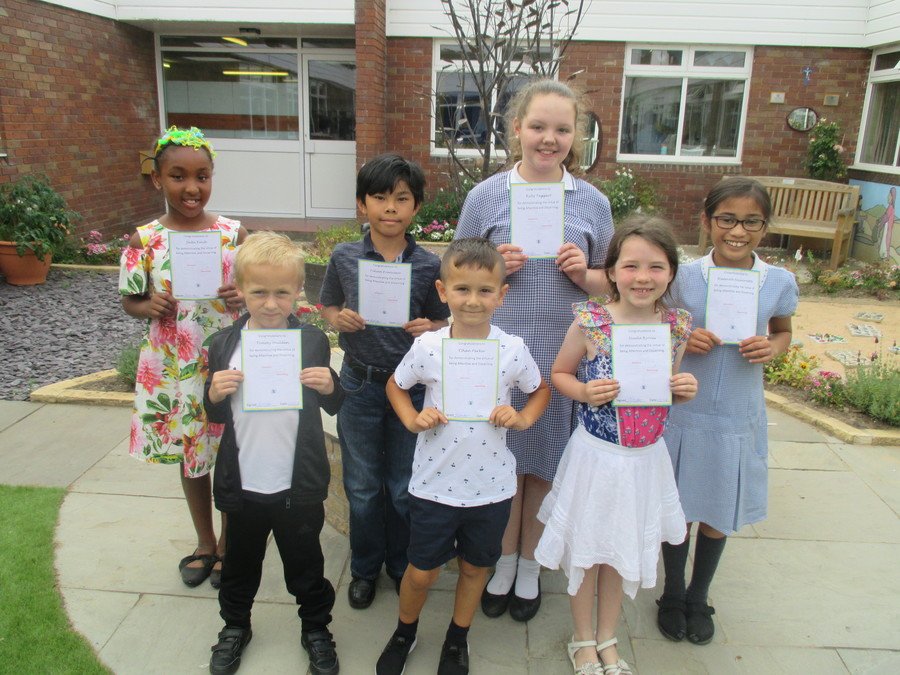 16th July 2018 - Year 2 showing the virtue of generosity.

Year 2 have been raising money for Marie Curie over the past term. Children have given any small amounts of change they have had to a collection found on their prayer table. This demonstrate how generous our children are. We are very proud that at such a young age, they understand that by being generous they can help many people who are less fortunate than ourselves. Well done Year 2!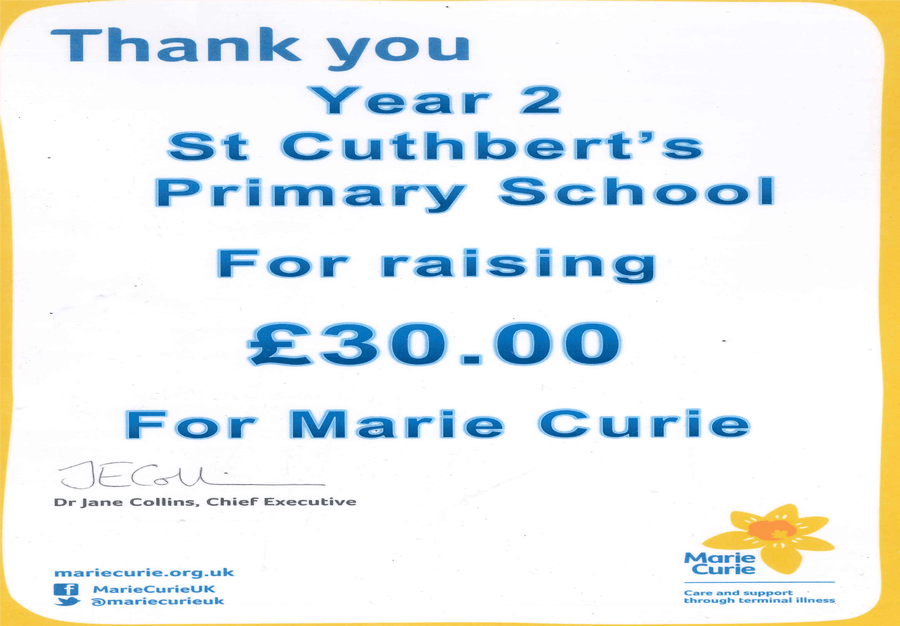 2nd July 2018 - Official Opening of our Prayer Garden.

A very exciting and anticipated event happened today! We officially opened our prayer garden. We were truly blessed to have the Lord Mayor of Birmingham, Mrs Yvonne Mosquito, as our special guest to open it. Children were selected from the Liturgy Leaders, School Council and the Prayer Group to lead us in a prayer service. We welcomed guests who have helped this beautiful testament to our faith become a reality. We welcomed Mrs Laidlaw and Robby's parents, members of the Governing body, Father Andrew and our Parish Sisters and the parent helpers who voluntarily gave up their time to help raise money and design our beautiful garden. It was really a special occasion which demonstrated the love of God we have in us all and the strength of our community.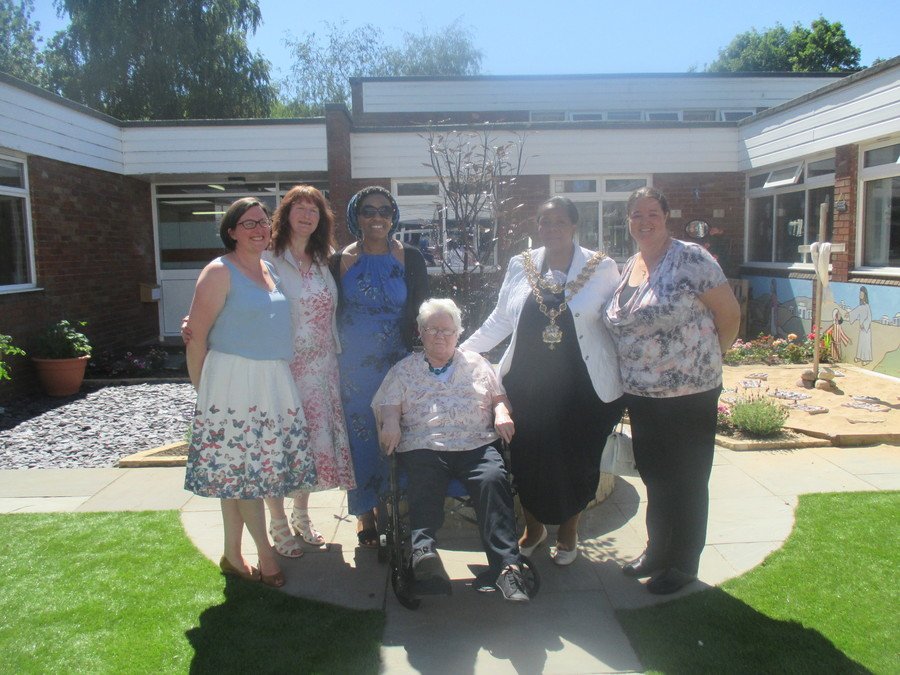 16th June 2018 - St. Chad's Flower Festival.

Our School, alongside other schools in the Archdiocese, were invited to take part in St. Chad's flower festival. Mrs Parkes did a wonderful job with help from some Year 6 children in creating a beautiful display depicting Mary: The Rosary. We were awarded a bronze award and are truly grateful for the opportunity to take part in such a beautiful event.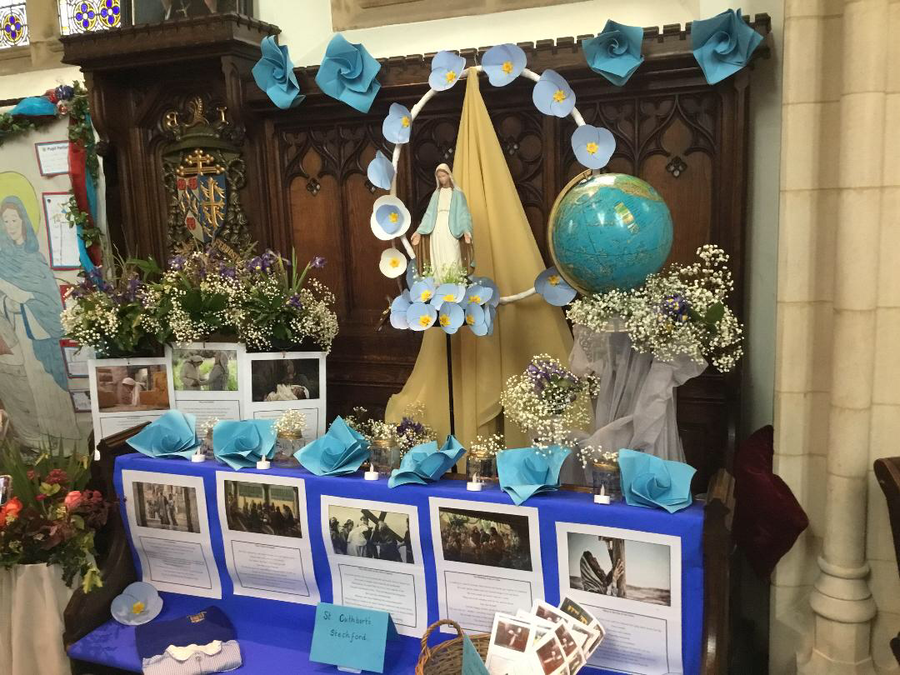 16th March 2018 - Lent Prayer Service
Mrs Hobbs presented a lovely prayer service today all about what Lent meant to Catholics and what we should do during the season of Lent. We listened attentively as the Liturgy Leaders read beautifully written bidding prayers.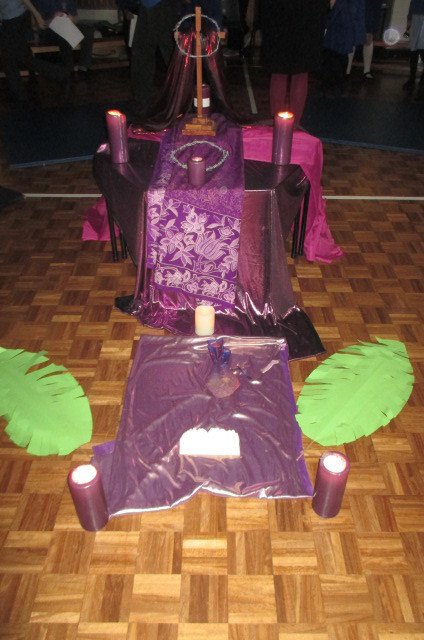 7th December 2018 - Gift Night
After school, parents were invited to wrap a present for those less fortunate in our community. We were amazed by the turn out! We filled the hall and two classrooms with parents and children showing generosity.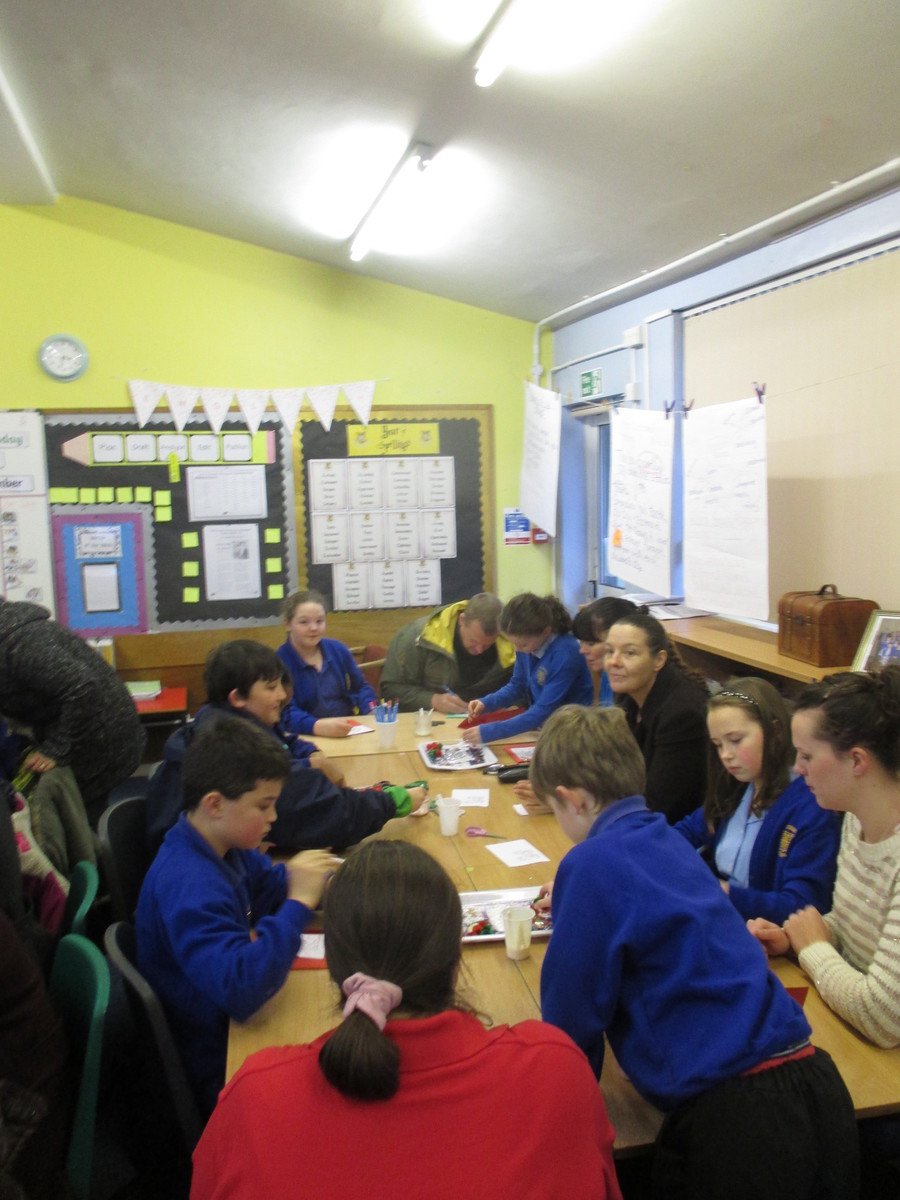 19th October 2017 - Reception Welcome meeting.
Today, we invited the parents of our new reception class to gather together to officially welcome their children into our school community. We were very lucky to be joined by Fr. Andrew and Fr. Vipin. The Liturgy Leaders read the bidding prayers eloquently. Each child was presented with a lovely certificate. It was a lovely afternoon and we would like to thank the parents of the reception children for attending.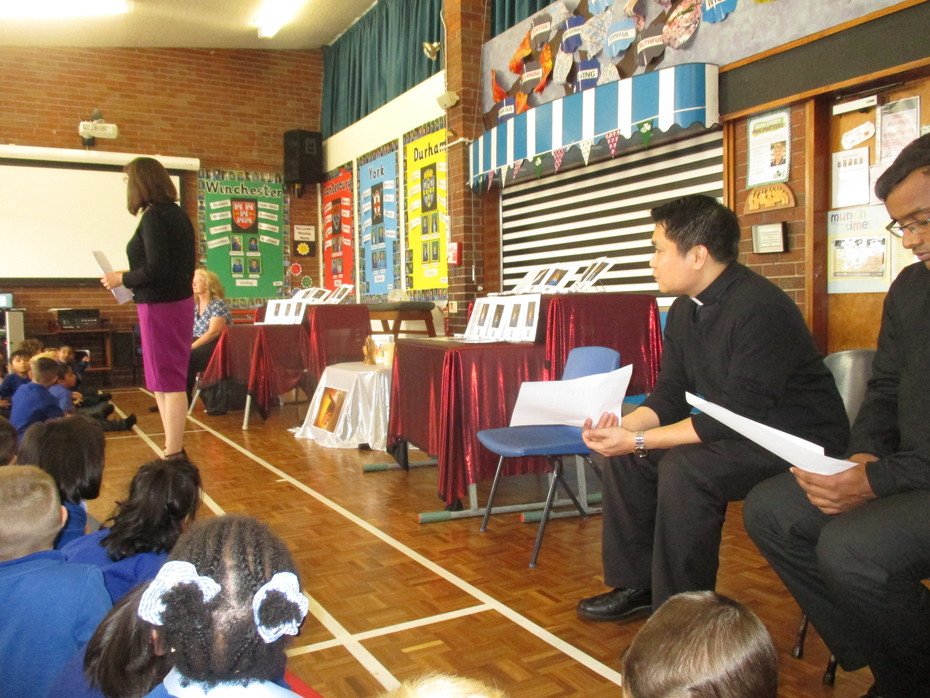 18th October 2017 - Prayer Service
Mrs Hobbs led a lovely prayer service today focusing on each person's role within our school community and how at the heart of everything we do in our school, we remember that Jesus is with us always and it is our mission to spread his love to one another.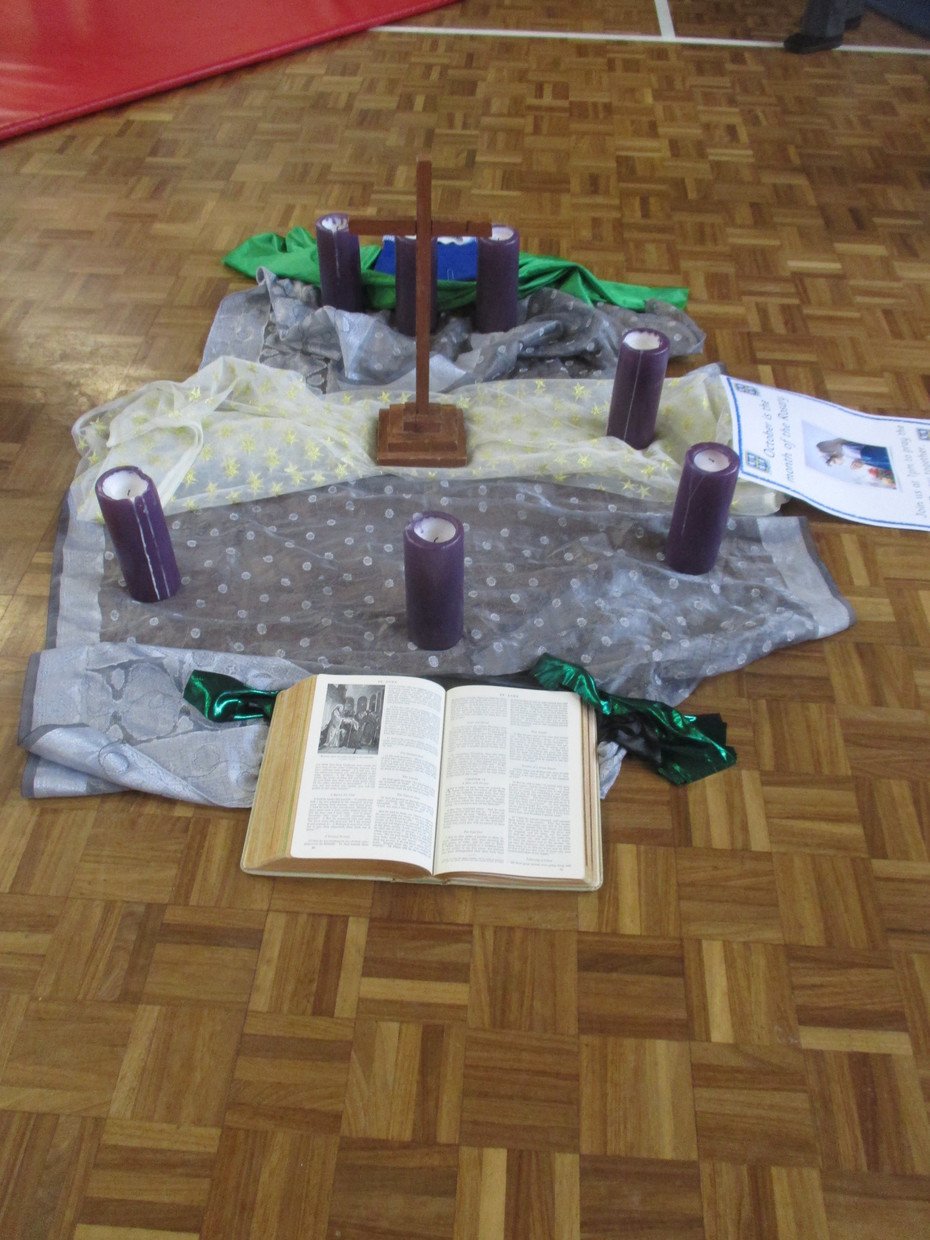 5th October 2017 - Our lunchtime Rosary.

Our Liturgy Leaders, led the Rosary during the month of October. Many children from both Key Stage 2 and Key Stage 1 chose to join us in prayer in our beautiful prayer garden.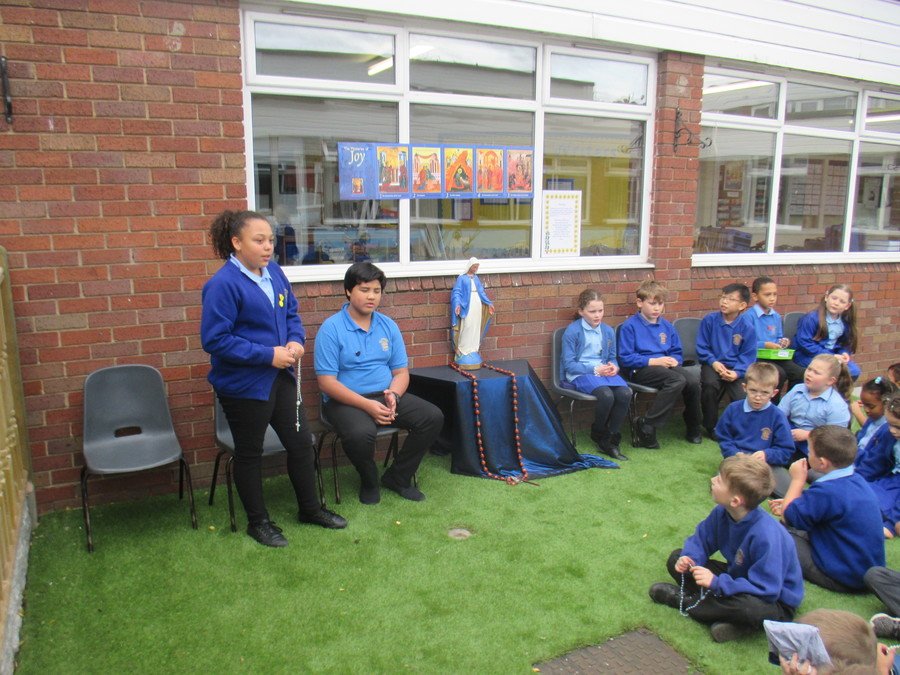 29th September 2017 - Macmillan Coffee Morning

On Friday, we had our Macmillan coffee morning. We were overwhelmed by the support of our parents and our parish who came for a warm drink and a nice slice of cake. We would like to thank our staff for their generous donations to help raise money for such a worthy cause.