Academic Year 2018-2019
Academic Year 2017-2018
19th July 2018 - Children awarded for showing the virtue of being attentive and discerning.
Today we had our celebration assembly. We have started a new award relating to our SMSVC lessons. These children were recommended by their teachers for being attentive and discerning. Well done to Ethan (Reception), Tommy (Y1), Nuala (Y2), Jada (Y3), Julian (Y4), Ruby (Y5) and Hannah (Y6).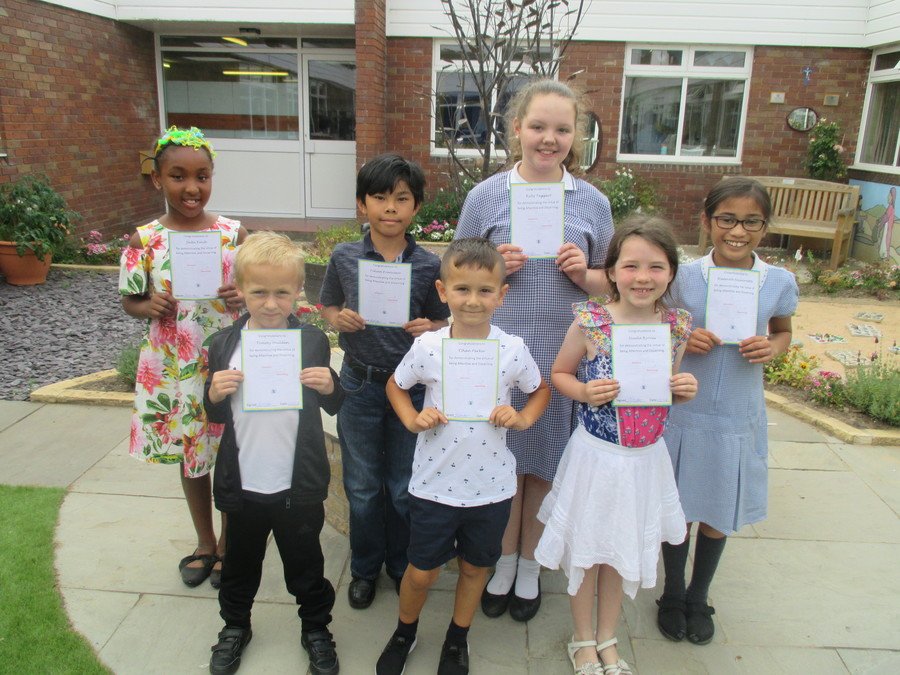 16th July 2018 - Year 2 showing the virtue of generosity.

Year 2 have been raising money for Marie Curie over the past term. Children have given any small amounts of change they have had to a collection found on their prayer table. This demonstrate how generous our children are. We are very proud that at such a young age, they understand that by being generous they can help many people who are less fortunate than ourselves. Well done Year 2!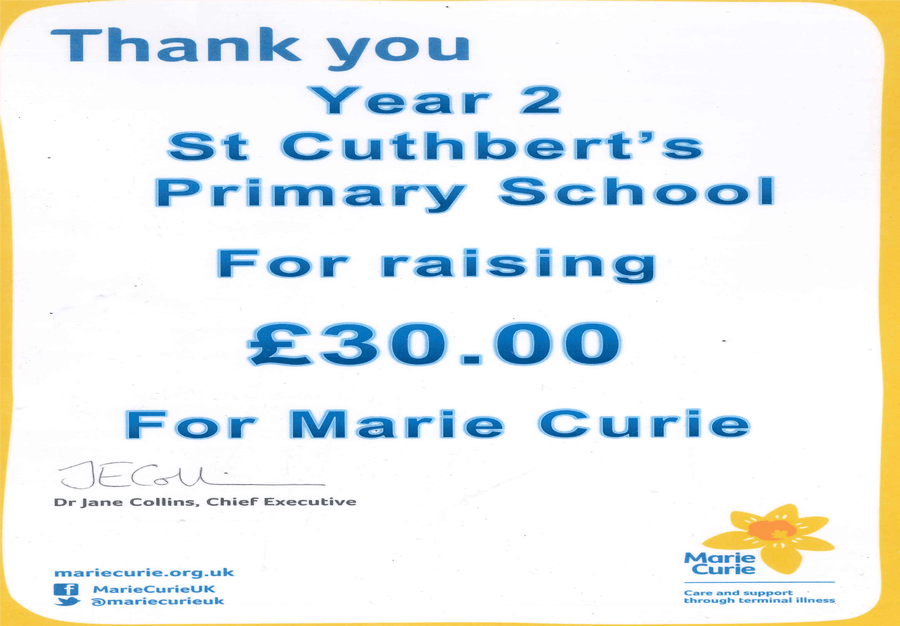 2nd July 2018 - Official Opening of our Prayer Garden.

A very exciting and anticipated event happened today! We officially opened our prayer garden. We were truly blessed to have the Lord Mayor of Birmingham, Mrs Yvonne Mosquito, as our special guest to open it. Children were selected from the Liturgy Leaders, School Council and the Prayer Group to lead us in a prayer service. We welcomed guests who have helped this beautiful testament to our faith become a reality. We welcomed Mrs Laidlaw and Robby's parents, members of the Governing body, Father Andrew and our Parish Sisters and the parent helpers who voluntarily gave up their time to help raise money and design our beautiful garden. It was really a special occasion which demonstrated the love of God we have in us all and the strength of our community.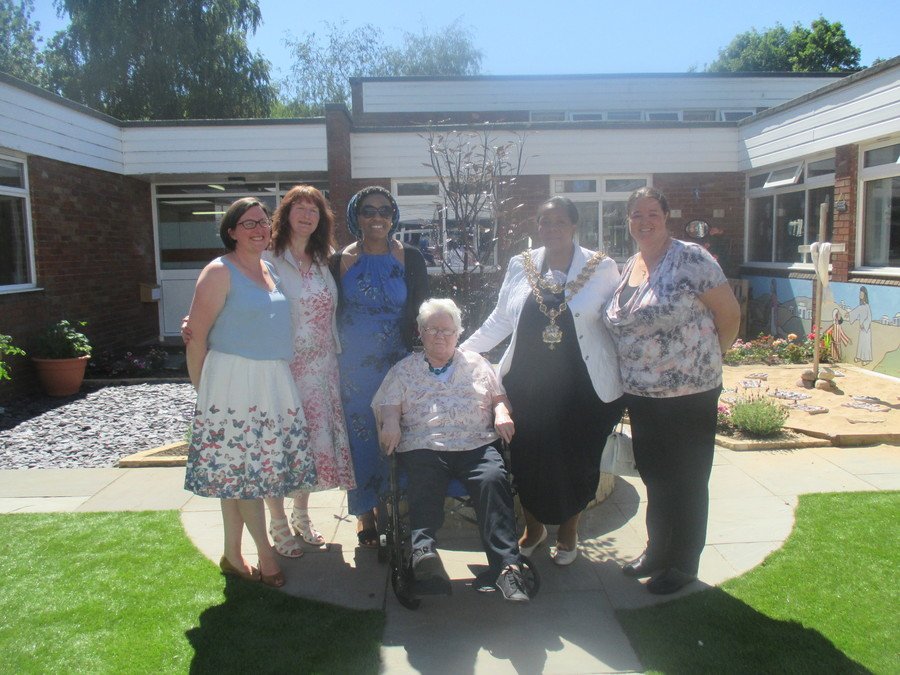 16th June 2018 - St. Chad's Flower Festival.

Our School, alongside other schools in the Archdiocese, were invited to take part in St. Chad's flower festival. Mrs Parkes did a wonderful job with help from some Year 6 children in creating a beautiful display depicting Mary: The Rosary. We were awarded a bronze award and are truly grateful for the opportunity to take part in such a beautiful event.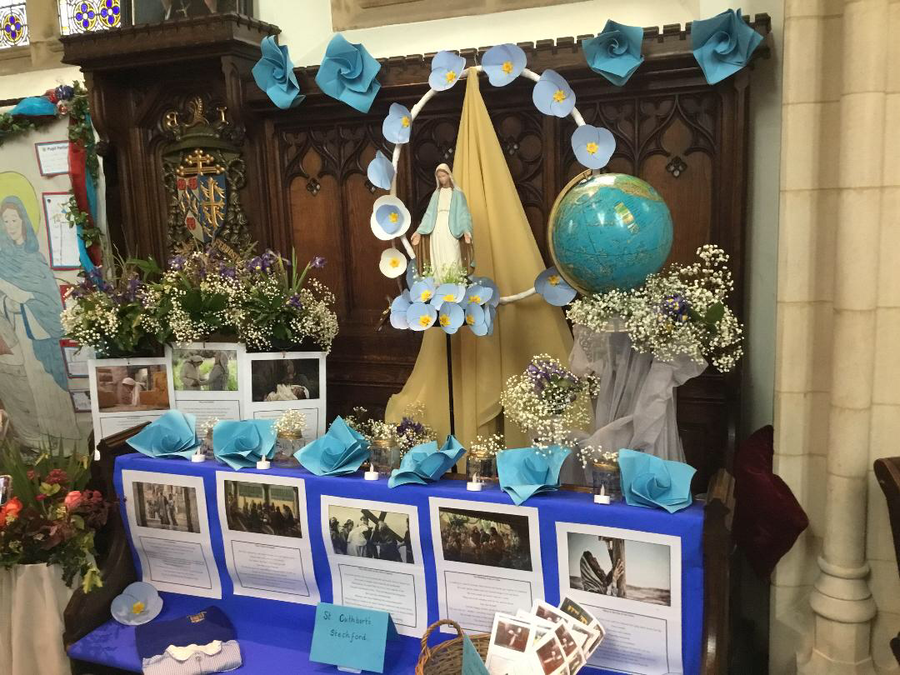 16th March 2018 - Lent Prayer Service
Mrs Hobbs presented a lovely prayer service today all about what Lent meant to Catholics and what we should do during the season of Lent. We listened attentively as the Liturgy Leaders read beautifully written bidding prayers.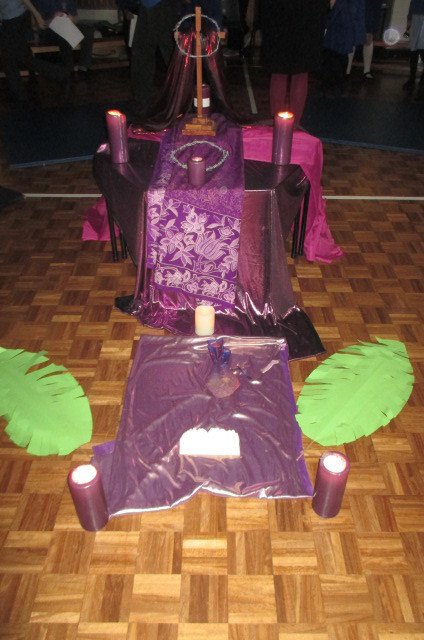 7th December 2018 - Gift Night
After school, parents were invited to wrap a present for those less fortunate in our community. We were amazed by the turn out! We filled the hall and two classrooms with parents and children showing generosity.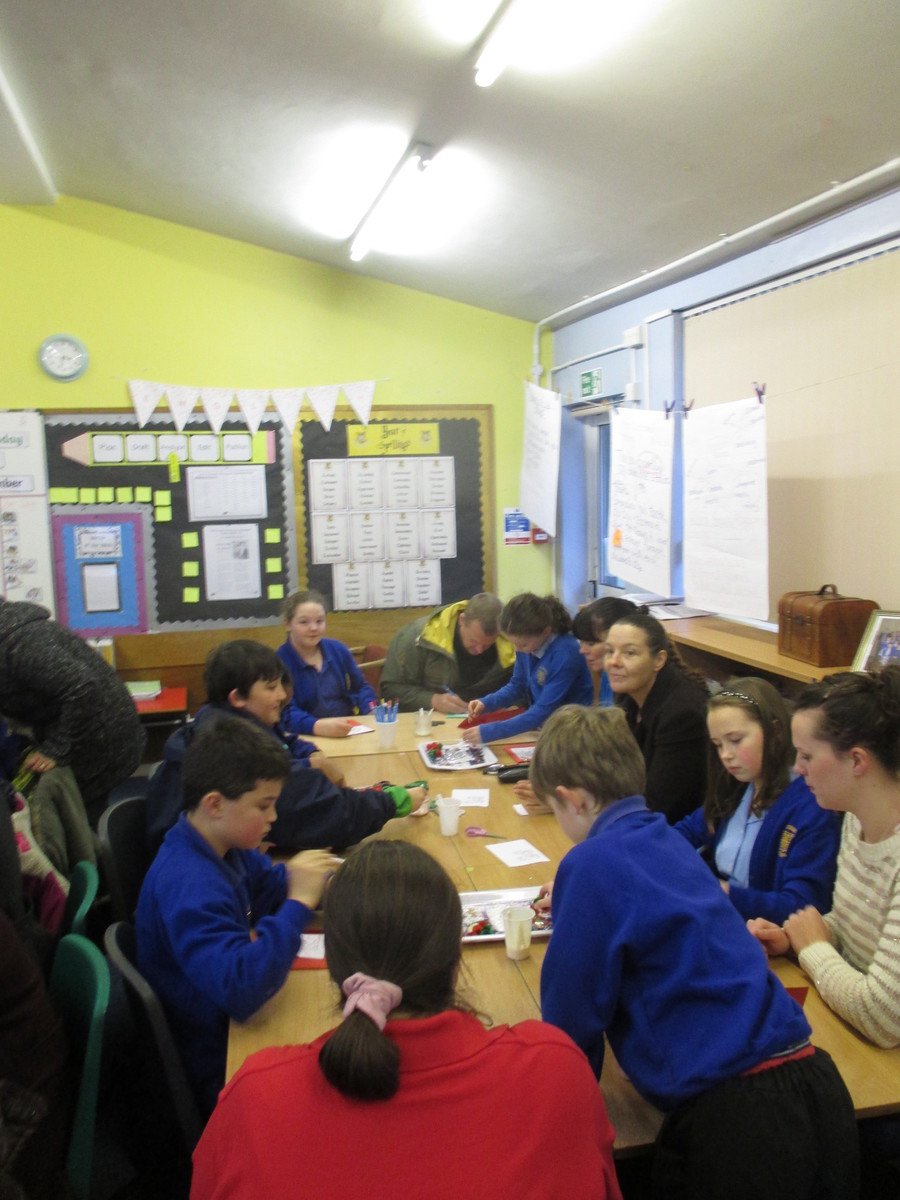 19th October 2017 - Reception Welcome meeting.
Today, we invited the parents of our new reception class to gather together to officially welcome their children into our school community. We were very lucky to be joined by Fr. Andrew and Fr. Vipin. The Liturgy Leaders read the bidding prayers eloquently. Each child was presented with a lovely certificate. It was a lovely afternoon and we would like to thank the parents of the reception children for attending.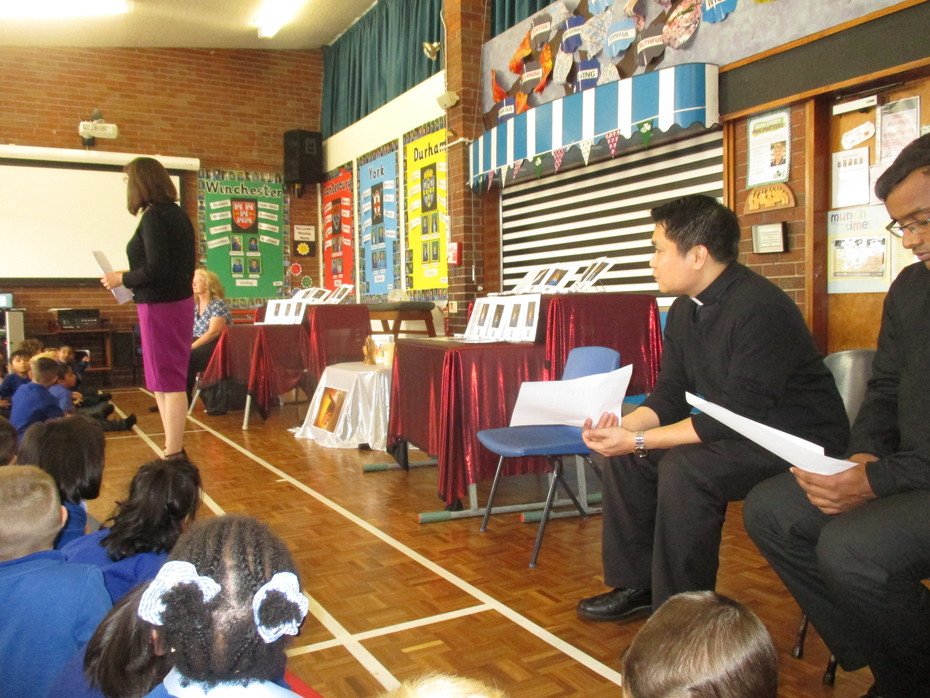 18th October 2017 - Prayer Service
Mrs Hobbs led a lovely prayer service today focusing on each person's role within our school community and how at the heart of everything we do in our school, we remember that Jesus is with us always and it is our mission to spread his love to one another.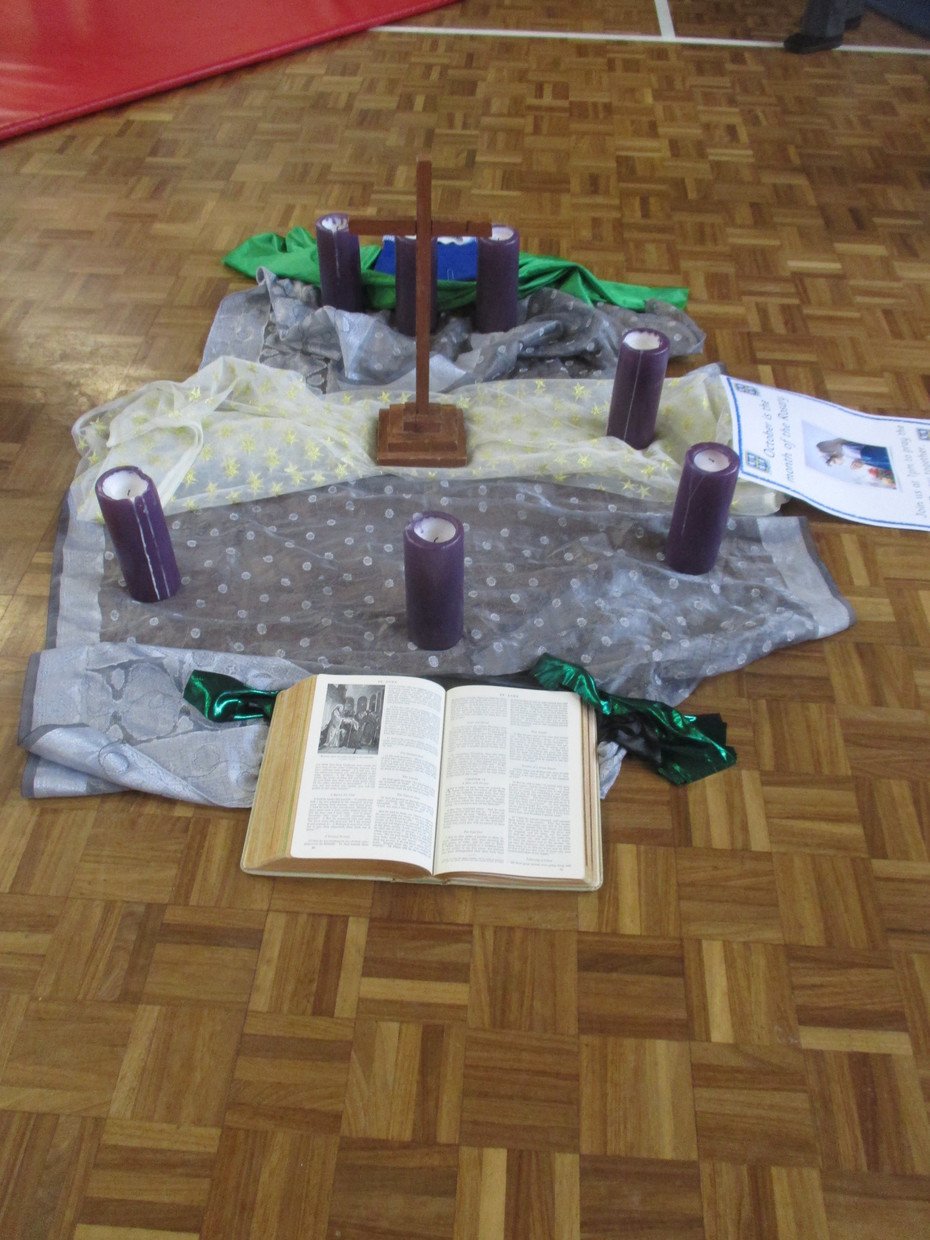 5th October 2017 - Our lunchtime Rosary.

Our Liturgy Leaders, led the Rosary during the month of October. Many children from both Key Stage 2 and Key Stage 1 chose to join us in prayer in our beautiful prayer garden.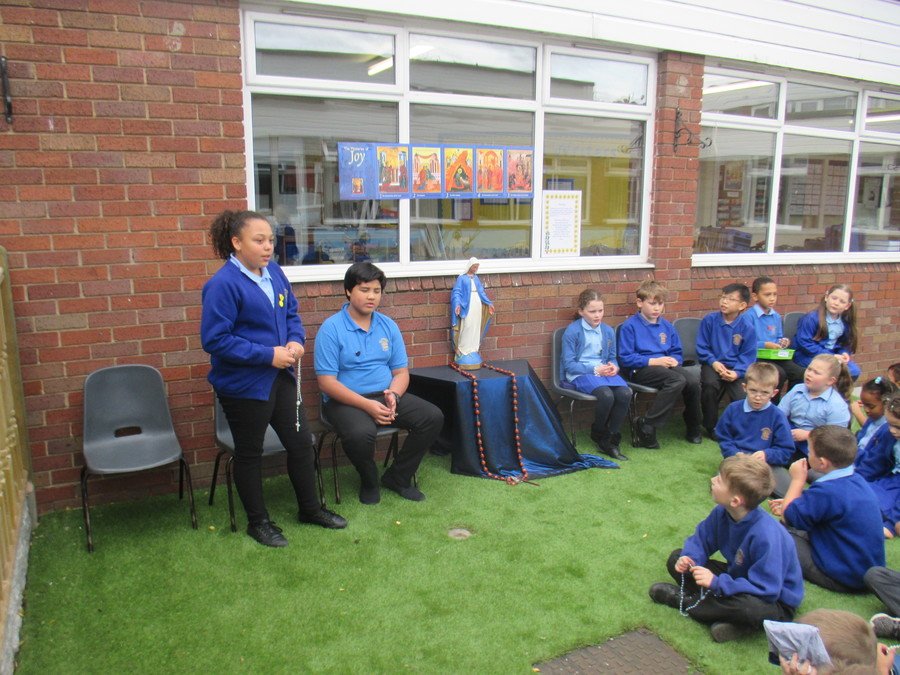 29th September 2017 - Macmillan Coffee Morning

On Friday, we had our Macmillan coffee morning. We were overwhelmed by the support of our parents and our parish who came for a warm drink and a nice slice of cake. We would like to thank our staff for their generous donations to help raise money for such a worthy cause.